---
Our raw materials are mainly imported from POSCO South Korea. Being one of the largest steel maker in the world, POSCO products are known for it's exceptional quality. With POSCO FINEX technology, our products are more environmental friendly, producing less pollutant exhaustion during manufacturing process compare to traditional methods.
We supply to a wide range of industries such as the higher-end automotive, electronics & electrical industries and the lower-end construction and engineering fabrication industries in domestic or export to oversea markets.
---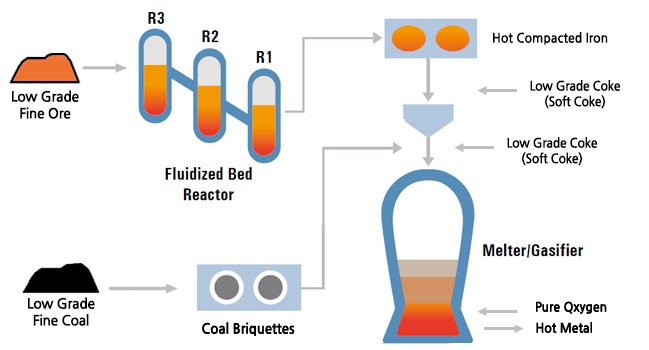 FINEX, one of the most successful alternative iron-making technologies jointly developed by POSCO and SIEMENS-VAI, is based on the direct use of ore fines and non-coking coal. The key technologies of FINEX are fluidized bed reduction of ore fines, hot DRI fines compaction to HCI(Hot Compacted Iron), briquetting of coal fines, and melting of HCI into hot metal. POSCO has been operating the world's first commercial FINEX plant, with 1.5 MT of annual capacity, since April 2007 and has added up a new 2.0 MT in January 2014.
FINEX technique is characterized by much less exhaust gas emissions than blast furnaces as well as cost-saving effects.
---
Hot-Rolled Steel & Hot-Rolled Pickle and Oiled
Steel Plates
Cold-Rolled Steel
Galvanized / Galvannealed Steel
Electro-Galvanized Steel
Electrical / Silicon Steel
Stainless Steel
Aluminized Steel
PosMAC Steel
Pre-Coated Steel
Tailored Welded Blanks
And other World Premium Products